Rich Honiball
Today in Brand History: Marks & Spencer
Updated: Oct 2, 2022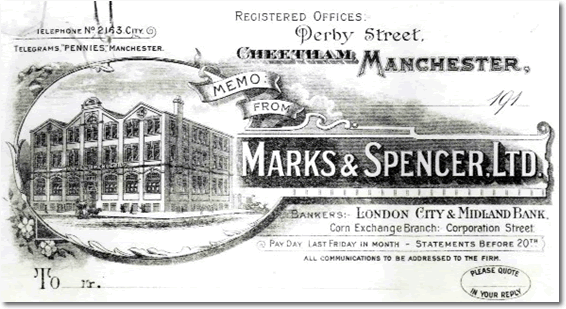 (photo credit: thegenealogist.com)
In 1894: Simon Marks and Tom Spencer open their first Penny Bazaar in Manchester. Michael Marks, a Jewish immigrant from Slonim, Belarus, settled north in the Leeds area of England. Beginning as a pedlar, he soon opened a stall in the Kirkgate Market in Leeds. He carried a wide range of products but when the penny section began to thrive, he eliminated all other price points.
Marks needed a partner so he approached Isaac Dewhirst who had loaned him money initially. Dewhirst recommended that he speak with Tom Spencer, his senior cashier. Spencer invested £300, bringing his skills in managing the business and accounts, which complemented Michael Marks' merchandising abilities and his talents in selling and dealing with people. He also continued to teach Marks English.
Marks & Spencer called their new stores "Penny Bazaars", keeping the penny price slogan and adding the words "Admission Free." It was a successful marketing ploy, encouraging customers to browse without any obligation to buy. Browsing may seem normal today, but at the time, it was highly discouraged.
By 1901, Marks & Spencer had grown to 36 Penny Bazaar outlets, including 12 actual store fronts, the rest being market stalls. The growing chain became known colloquially as "Marks and Sparks", or "M&S", established a strong reputation for only selling British-made goods. It entered into long-term relationships with British manufacturers, and sold clothes and food under their own "St Michael" brand, which they introduced in 1928.
By 1950, almost everything sold at M&S was sold under their private brand, the "St Michael" label. While M&S lingerie, women's clothes and girls' school uniform were originally branded under the "St Margaret" label, the whole range of general merchandise was moved under "St Michael". It was around this time that M&S also put their emphasis on quality, adding a food technology department, creating a stock size measuring system, adding thermostatically controlled refrigeration, and banning all smoking in their stores. The uncompromising attitude towards customer relationships drove the 1953 slogan "The customer is always and completely right!"
By the mid '70's, M&S started to offer more products produced outside of Britain while beginning to slowly expand internationally; Europe, Ireland, Canada at first. M&S sold apparel, footwear and home goods but like many UK retailers, also sold food. As expansion continued, the chain experimented with apparel only shops and food only shops, only to go back to a blended model. In 1988, Marks & Spencer purchased Brooks Brothers and King's Super Markets with eyes on further expansion and diversification. M&S peaked in the mid to late 1990's under Sir Richard Greenbury but margins had been pushed too high, quality was negatively impacted, and customer loyalty was significantly impacted. It has continued to have its "ups & downs."
A couple of personally fun facts? It was long rumored that Sir Richard Greenbury decided to purchase Brooks Brothers because he loved the quality of their quintessential oxford dress shirt.